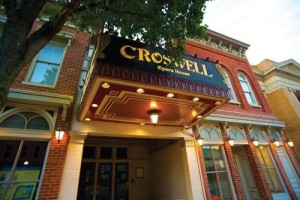 The Croswell Opera House's capital campaign, which aims to raise $6.2 million to renovate the historic theater, has received a major boost with the announcement of a $1 million pledge from the Sage Foundation.
Together with an anticipated $740,000 façade improvement grant from the state of Michigan, the Sage Foundation's pledge will bring the total raised to $4.6 million, or almost 75 percent of the campaign's goal.
"We are absolutely over the moon about this news," said Jere Righter, artistic director of the Croswell. "This is a huge boost for the campaign. In addition to getting us three-quarters of the way to our goal, the Sage Foundation's leadership will show other donors that this project has real momentum and a tremendous base of support."
Jim Van Doren, executive director of the economic development agency Lenawee Now, said the gift reflects a deep commitment to Lenawee County on the part of the Sage family and foundation president Melissa Sage Fadim.
"Melissa and her family have always been profoundly committed to our community," Van Doren said. "They know this project is transformative in every sense of the word and will be a crucial part of revitalizing Lenawee County."
The Croswell's capital campaign was launched in June. It aims to upgrade the theater's aging infrastructure, improve patron comfort with amenities such as additional restrooms, turn the Heritage Room into a comfortable community gathering place, and add performance spaces. The changes are intended to ensure the Croswell's financial viability in the future while preserving the building's historic character.
For more information about the Croswell's capital campaign, visit campaignforthecroswell.org.
Croswell campaign passes $4.6 million with help of gift from Sage Foundation