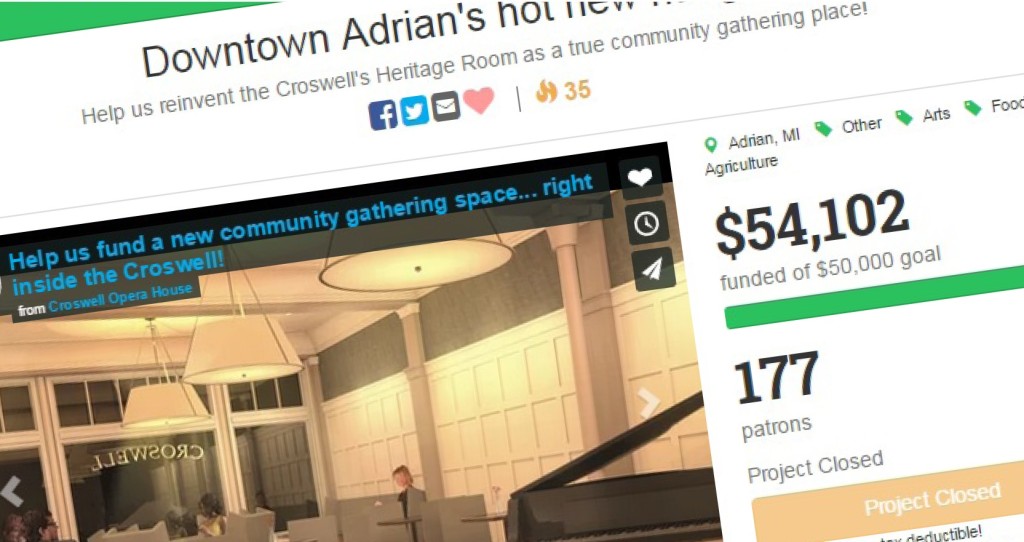 The Croswell Opera House's campaign to win a $50,000 matching grant from the Michigan Department of Economic Development reached its goal last week, with 177 supporters donating a total of $54,102 to the effort.
The effort was targeted at improving the Heritage Room just off the main lobby, which is part of the Croswell's ongoing $6.2 million campaign.
The success of the crowdfunding effort means that the theater will receive $50,000 in matching funds from the state.
"It has been so amazing to see people come together around this project and around the Croswell," said artistic director Jere Righter. "It really shows you how many lives this place has touched."
The total impact of the crowdfunding effort is over $100,000, representing a substantial boost to the Croswell's capital campaign, which was announced to the public in June.
"Although this is just one piece of the puzzle, it's a very important piece," Righter said. "Besides the $100,000 impact of this effort itself, the fact that so many supporters helped us meet the challenge will help us with the rest of our fundraising, because we can show foundations and other donors just how much the Croswell means to the community."
The Croswell's capital campaign is aimed at updating the theater's infrastructure, expanding programming options, and ensuring future financial stability, while staying true to the historic character of the 149-year-old landmark. For more information, visit campaignforthecroswell.org.
Croswell Opera House meets goal for $50,000 challenge grant