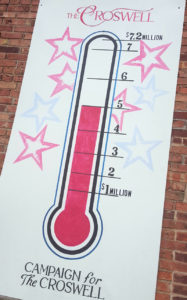 The Croswell Opera House is kicking off the final phase of its $6.2 million capital campaign with an anonymous challenge from two local families.
The families have pledged to give a total of $250,000 to the campaign if the Croswell can raise the same amount by June 10. Since receiving the families' commitment, the Croswell has raised $93,471 toward the match.
"For anyone who has thought about becoming part of this campaign but hasn't yet, this is a tremendous opportunity to double the impact of their gift," said Jere Righter, the Croswell's artistic director.
The campaign was announced in June 2015, at which point $2.2 million had been raised. The total now stands at just over $5 million.
The Croswell has set a "stretch goal" of $7.2 million, with the intention of making sure the theater is able to establish a good-sized endowment for long-term financial security. In addition, exceeding the original $6.2 million goal would allow the Croswell to do things like repainting the auditorium to be as close as possible to its appearance in 1921, which is the year the inside of the theater took its current form.
"Because of the extraordinary response we've seen so far, we're confident that we can exceed our original goal and really do justice to this project," Righter said.
However, she added, there's still a lot of work to do.
"We've come a long way," she said, "but we're not letting up. We're going to keep running until we reach the finish line."
The Croswell's capital campaign will upgrade the theater's aging infrastructure, improve patron comfort with amenities such as additional restrooms, turn the Heritage Room into a comfortable community gathering place, and add performance spaces. The changes are intended to ensure the Croswell's financial viability in the future while preserving the building's historic character.
For more information about the Croswell's capital campaign, visit campaignforthecroswell.org.
$250,000 challenge grant begins Croswell campaign's final push