Details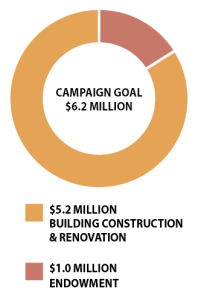 Our building projects fall into three main categories, each directed toward the overall goal of building a sustainable long-term future for the performing arts in our region. Finally, we are seeking to build a $1 million endowment to ensure future financial stability.
Strengthening our infrastructure
Recognizing our responsibility to care for the Croswell's historical legacy and provide a safe, long-lasting and structurally sound space for future generations, we will:
Bring the entire building up to current electrical codes.
Cement the floor in our "catacombs" in order to provide a safe, dry storage space for costumes and set pieces.
Relocate costume storage to the catacombs, allowing us to expand dressing rooms to support larger casts.
Improve safety by providing an appropriate means of egress from the basement level.
Bring the entryway and business offices up to ADA standards.
Enhancing the patron experience
To increase patron satisfaction and retention, we will:
Build new men's and women's restrooms on both the main floor and the balcony level, reducing lines and improving patron comfort.
Add a family restroom to better accommodate our patrons' needs.
Improve access to all parts of the building by widening doors, eliminating access barriers in the box office and lobby area, adding a lift platform from the street level to the main lobby, and installing an elevator from the lobby to the mezzanine level for easier balcony access.
Move the ticket window to the current art gallery, allowing patrons to queue comfortably indoors.
Install a hard shell around the orchestra pit, improving sound quality on the orchestra level.
Improve acoustics throughout the auditorium.
Install new lighting positions and instruments to improve the viewing experience.
Growing toward a sustainable future
To expand programming opportunities and build new revenue sources, we will:
Expand the current rehearsal room into a space that can also serve as a rental facility or black box theater. This will allow us to generate revenue from outside groups and stage events that are better suited to a small space. As a result, we will expand our range of programming and increase educational opportunities.
Expand the Heritage Room into a small performance venue and lounge area that extends all the way to the street, improving our visibility, maximizing natural light, and bringing in additional revenue through food and drink sales.
Building a permanent endowment
The final $1 million of our capital campaign will be used to create a permanent endowment for the Croswell. Paired with our existing facilities trust, this endowment will ensure financial stability by providing a steady stream of operating income and offering security against unexpected building needs or temporary shortfalls.
Drawings
Please click on any of the images below to view drawings of the project!