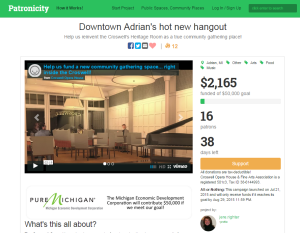 A crowdfunding campaign launched this week will give the Croswell Opera House a chance to win $50,000 in matching funds from the state of Michigan — if we can raise an equal amount from supporters by Aug. 29!
This effort is part of our capital campaign, and funds raised through the crowdfunding effort will support the transformation of the Croswell's Heritage Room into a new community gathering space.
It's an all-or-nothing challenge, meaning that no money at all will be collected unless we reach our $50,000 goal.
Here's a quick look at the details:
The Heritage Room, just off the Croswell's main lobby, will be expanded and renovated into a comfortable lounge space where people can gather for entertainment, food, drink and conversation.
The new space will be built out to the front of the building to accommodate more people and let in natural light.
Events that could be held in the new space include open mic nights, poetry slams, food or drink tastings, trivia nights, improv performances, bingo nights, paint-and-pour art classes, and more — the sky's the limit!
The matching funds are available through the Public Spaces Community Places program, which is a collaborative effort between the MEDC, the Michigan Municipal League, and Patronicity, a Michigan-based tech startup. The program lets people use crowdfunding to help projects in their communities and secure matching funds from the state.
Click here to view the campaign and make your donation!
Help the Croswell win a $50,000 matching grant from the state!